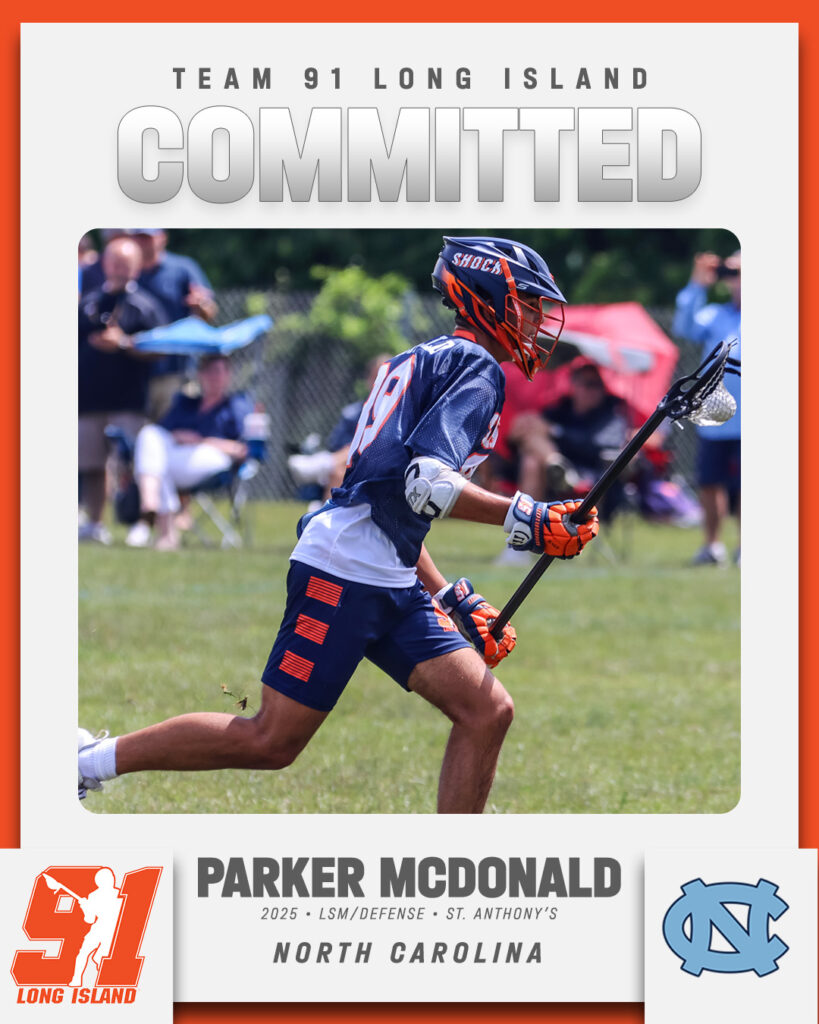 There's just something unique about Parker McDonald.
Catch the Team 91 2025 Shock and St. Anthony's in action, and you'll notice pretty quickly that McDonald can do things that most can't on the lacrosse field.
Usually, LSMs can make a ton of plays in the middle of the field, but they might be lacking in coverage ability. Close defensemen might cover better, but they can't always get up and down the field in transition, be an offensive threat or gobble up ground balls like a pole.
That's the rub with McDonald. He can do it all, and it's what helped establish him as one of the best defensive players in the country.
"I definitely think my versatility sets me apart," McDonald said. "I originally started playing down low, but eventually, Coach (Shock defensive coordinator Ross) Turrini saw something in me that nobody else did and moved me up top. He realized that I could play both and he always wanted me on the field. He'd have me on the facoeff wings, getting ground balls and possession and not coming off the field until everything is settled. But I can also cover down low."
A Unique Prospect
It's a part of what made McDonald a five-star prospect to both the National Lacrosse Federation (No. 7 overall) and Inside Lacrosse (No. 12), and it's why he emerged as a priority for so many of the top schools in the country.
"Parker can impact the game in a way that not many defensive players can," Shock head coach Jimmy Mulé said. "He's so athletic that he can make a million plays in the middle of the field as an LSM, but he's also excellent in coverage to the point where he can erase a top offensive threat. Watching him develop over the past few years, especially in the past year or so, has been a joy. He's a dedicated, tireless worker that has put in the time to become one of the very best players in the country."
Another Team 91 Five-Star Tar Heel
His recruitment proved that. It became evident pretty quickly that McDonald would end up in the ACC, but North Carolina continued to separate itself from everyone else. The Tar Heels made it clear to McDonald that he was a priority, and as a result, the Shock eventually committed to the Tar Heels.
It's the third straight class in which UNC has landed a Team 91 five-star, joining '23 Bandits attackman Owen Duffy (St. Anthony's) and '24 Wolfpack defenseman Ben Fox (Chaminade). McDonald was the third player on the Shock to commit, a number that has since ballooned into a national-best 17.
"Once I stepped foot on campus, it felt like home," McDonald said. "Everyone was so welcoming. I loved how everything's set up and it's very convenient for freshmen. When I was there, the environment just felt different than it did everywhere else. I felt like I belonged there. The coaches are good guys and great coaches, too. They helped me understand everything about the school."
Now? The Best Team in the Country
It's fitting that McDonald's development as a player has mirrored the Shock's as a team. A lifer on the team, he initially played midfield, but once the team reached the age where long poles are introduced, McDonald found a new home. As it rose through the ranks, the team struggled to establish itself among the nation's elite until Mulé took over.
Now? It leads the country in 2025 commitments and took home the NLF National Championship in July. McDonald was a focal point of that tournament, scoring in both the semifinals and final as the Shock rolled in matchups against two of the best teams in the country. It's a sharp contrast from where they were in middle school, and a testament to all of the hard work that the team put in.
"Once Coach Mulé came in after he finished up with his '19 team, everything changed," McDonald said. "Business really started then. It went from this fun game to being a fun game and something with which we could get somewhere."
For McDonald? That means a future in Chapel Hill, where he'll continue to prove why he's one of a kind.