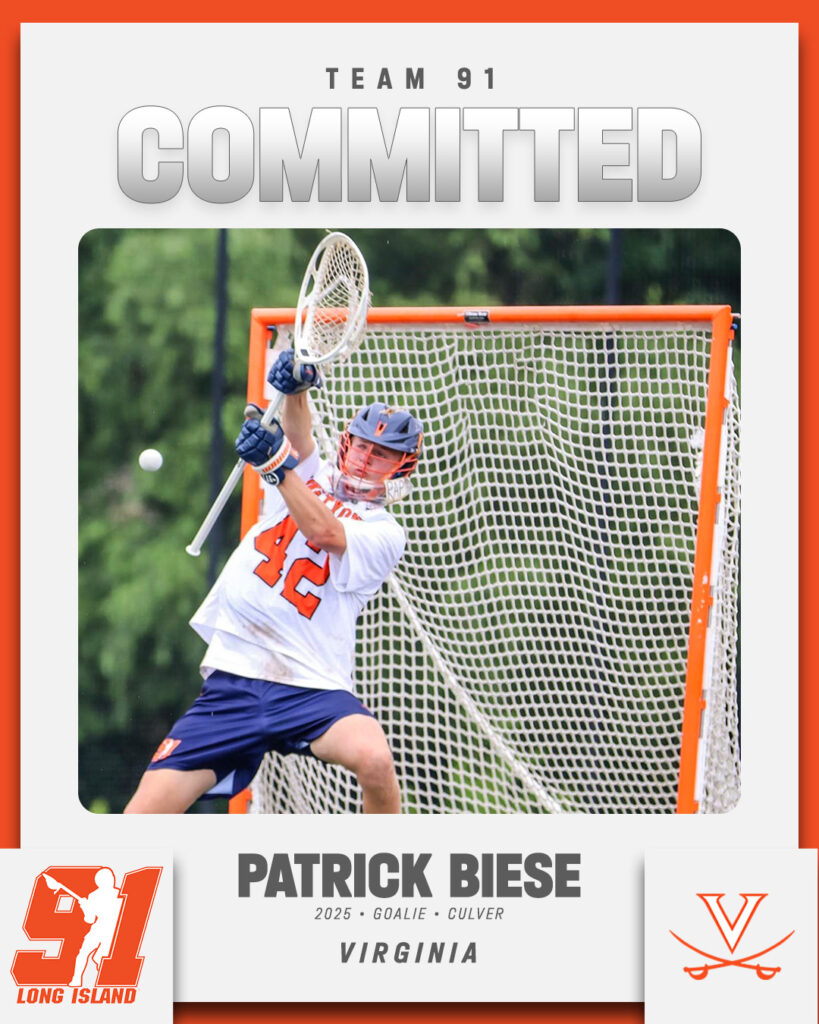 Patrick Biese has always had the natural talent to be a force in the cage.
At 6-4, 215 pounds with high-level athleticism and a penchant for high-caliber saves, it's never been difficult for anyone to project him to be a top-flight goaltender and elite-level recruit. The physical part was always there, but Biese is the first one to say that he needed to fine tune other aspects of his game to reach that next level.
"I always struggled with my mental game," said the Team 91 2025 Shock and Culver (Ind.) goalie. "When I'd have a good game, I'd get really high emotionally, then I'd let in the first shot of the next game. I was able to find more of a balance this year."
Part of that was thanks to the tutelage of Shock head coach and former MLL champion and Team USA goalie Jimmy Mulé. It's rare for goalies to have such an accomplished former player at that position as their head coach, and for Biese, it was a huge reason why he was able to iron out any issues that he had.
"He really helped me with my mental game," Biese said. "He showed me how to lead a defense and be the energy presence, how to not get down on yourself, flush a goal and keep going."
Mental Game on the Upswing
That shift in mentality and consistency was on full display at July's NLF National Championships. The Shock, who'd reached the finals the year before, beat Laxachusetts, Team 91 Maryland and Prime Time in a row to take home the national title. Those opponents were regarded as the other three best teams in the grade, and Biese was brilliant against all of them.
His finest effort came in the semis, where he was absolutely out of this world with 19 saves and one last-second goal allowed in a convincing win. He was incredible against in the final as the Shock reversed last year's title game result by cruising to a win.
"I absolutely love Team 91. I absolutely love Coach Mulé and (defensive coordinator) Coach Ross (Turrini)," Biese said. "Before the Laxachusetts game, Coach Mulé read a story that his son, ('17 and former Duke standout) Cameron, wrote him about how much he loved his time at 91 and how much he wanted to go back and relive it. It lit our team on fire, and once I made the first save, I just kept going."
That weekend also changed Biese's entire trajectory. He'd already planned to go through the recruiting process as a 2026, but after that stretch, he realized that he'd be in incredibly-high demand as a 2025. Once he confirmed that he could go back to being a 2025, Biese knew he'd be busy as of Sept. 1.
Biese is 'Hoos Next
National powerhouse Virginia was all too happy to oblige. Biese had his sights set elsewhere initially, but once he visited Charlottesville, he knew that he'd end up as a Cavalier. Shortly thereafter, Biese decided to end his recruitment and become a 'Hoo, becoming just the second Team 91 player to choose Virginia after national champion '17 Ian Laviano (Cold Spring Harbor). He's also the first player in Culver's storied history to pick UVA.
"The coaching staff is absolutely amazing, especially (former pro and UVA national champion goalie) Coach (Kip) Turner. He's the best," Biese said. "When I went on my overnight visit, it felt like home. I loved the team culture. I loved the intensity that they had during practice and how they competed. Being a very competitive human being, I thought that was awesome. Charlottesville is beautiful and UVA's one of the best teams in the country, so I knew it was the place for me."
Elite Goalie on the Way to Charlottesville
Under Lars Tiffany's guidance, Virginia racked up consecutive national titles in 2019 and 2021 and reached the Final Four last year. The 'Hoos have clearly established themselves as a premier program that will have a chance to celebrate on Memorial Day every year. It's not a coincidence that they were drawn to Biese, ranked a four-star recruit and the No. 36 overall prospect in the class by both the NLF  and Inside Lacrosse. UVA will once again be in the hunt for national titles with Biese in the cage.
"Patrick has put in so much work to help himself become one of the very best goalies in the entire 2025 class," Mulé said. "He's always had the ability to take over a game and frustrate shooters to no end, but he's become so much more consistent. His playoff run at NLF is possibly the most remarkable three-game stretch I've ever seen from one of my players, particularly considering the stage and competition. He was absolutely incredible and one of the biggest reason for our NLF National Championship. We couldn't be more proud of Patrick for his hard work and dedication."