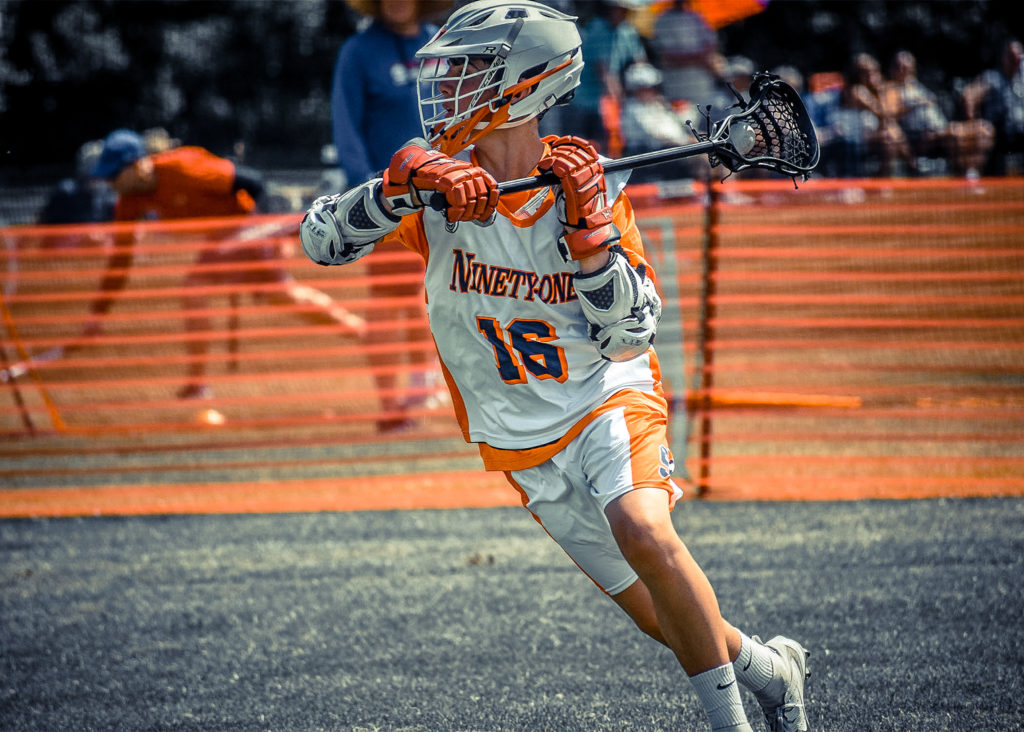 Follow Team 91 on Instagram, Twitter and Facebook.
Going into your final summer of club lacrosse as one of your team's few remaining uncommitted players can be an unsettling feeling.
That didn't bother Matt Keegan, though. Actually, the Sachem North lefty attackman saw it as an opportunity to blossom in his final run with Team 91 2021 Blaze.
"I didn't worry too much," Keegan said. "I knew that my time would come. It's hard not to get recognized and noticed when you're playing on a team with that much talent. I knew everything would work out, especially playing with guys that I've played with my whole life."
Keegan didn't let the lack of a spring season cost him, either. This was supposed to be his breakout campaign after posting a stout 40-point season as a sophomore, but instead, he put in the time to get ready to square off against the country's top competition with the Blaze.
"During quarantine, I focused on getting bigger and stronger," Keegan said. "I'm fortunate to have a weight room in my basement and I was in there every day, working on my skills to get ready for the summer, and it all paid off. As soon as I stepped on the field, I felt more confident and I knew I was performing pretty well. It was nice to see all of the work that I've put in lead me to my goal."
The workouts paid immediate dividends as Keegan stood out from the beginning. He filled up the back of the net more than ever, with noticeably more power on his shot, and it didn't take long for schools to notice. Keegan had offers come in from a bunch of schools, but as the process went on, he found himself drawn more and more to Binghamton. Because of the Division I recruiting dead period, he couldn't meet up with any of the coaches when he visited campuses, but it didn't matter. Ultimately, Keegan opted to commit to the Bearcats, becoming the 17th Blaze player to commit, all to Division I schools. He continues the Team 91-to-Binghamton pipeline, where'll join '18 Teddy McLoughlin (Islip) and Max Verch (Syosset), as well as '17s Kyle Tiernan (Glenn) and Tom Galgano (Bethpage).
"It felt like the right fit," Keegan said. "It's a great academic school and lacrosse-wise, I feel like I can go there and make an impact right when I get on campus. The coaches treated me very well and I could see myself playing for those guys. I felt better there than at other schools, and knowing that it's an awesome academic school was really important to me. It's also not too far away, which is nice. I'm still away, but my parents come watch my games or I can go home for a weekend. It's just right."
Building a Bearcat
Keegan transitioned to Team 91 in sixth grade, drawn in by the opportunity of playing for club founder and professional lacrosse all-time championships leader Brian Spallina. The former rugged defenseman's reputation preceded him and Keegan knew that he'd elevate his game playing for Spallina. Since then, he's continued to progress as a player, and it's no surprise to see him end up at the Division I level like his Blaze teammates.
"I came over when I heard Brian was coaching," Keegan said. "We used to be rivals when I played on a different team, but when I found out he was coaching, I knew I had to come here. 91 has really helped me improve my game and it's surrounded me with great players and the best coaches in the country. They put us in the best events, and most importantly, there's an environment where you have to work hard and they make you better. Brian's the man. He's done so much for me and I really appreciate it."
For Spallina, watching Keegan's development over the years, particularly this summer, is an incredibly rewarding experience. Spallina expects his pupil to become a mainstay in the Binghamton lineup, one who will help the Bearcats win a lot of games.
"I'm so proud of the work that Matt has put in to get to the next level," Spallina said. "He's been an important part of the team for so long and it's awesome to see him get his due. He became an even better shooter this summer as a result of his hard work, and he was more impactful than ever before. Matt bought in to everything that 91 is about when he first came over, and it's been an absolute pleasure watching him grow into the player and young man that he is today. I'm fired up to see what he can do at Binghamton."
That's not good news for opposing goalies.