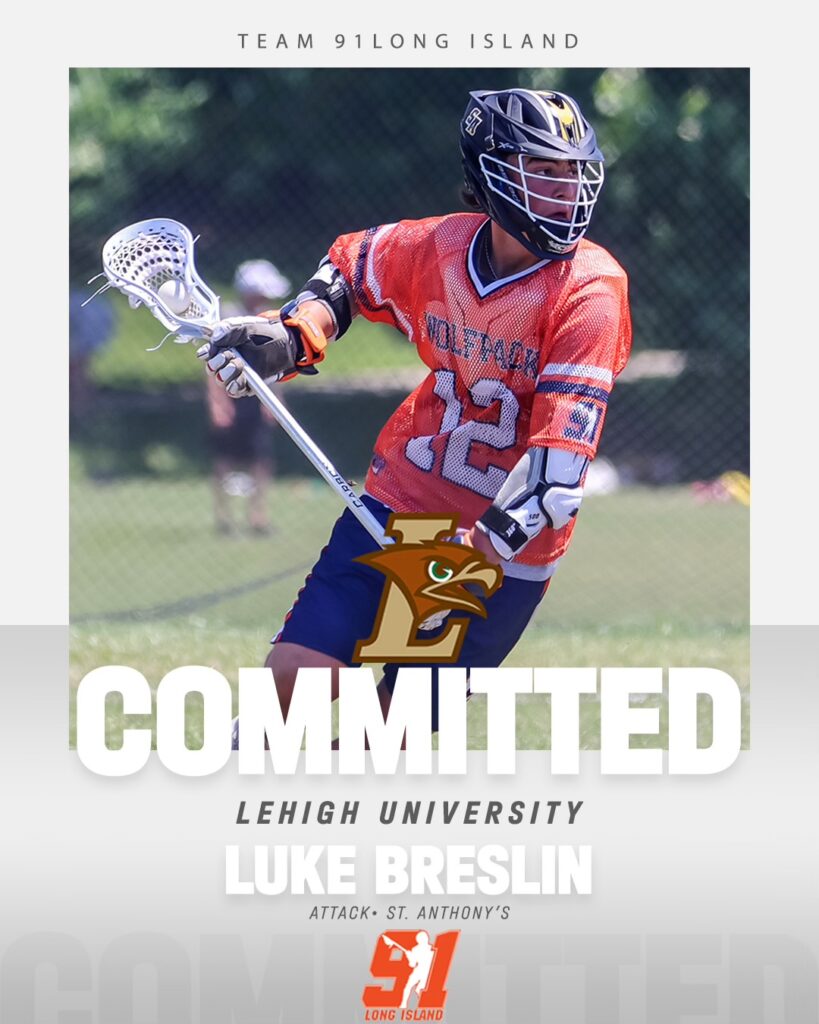 Follow Team 91 on Instagram, Twitter and Facebook. 
At a time of so much uncertainty, Luke Breslin didn't have to wait long at all to find out how valued he was.
Breslin wasn't sure to expect on Sept. 1, the first day that Division I schools were able to recruit players in the class of 2024. The Team 91 2024 Wolfpack and St. Anthony's attackman put forth an incredibly productive summer for a loaded Wolfpack team, but that's never a guarantee that you're going to get the recruiting attention that you expect.
Lehigh made it a point to show Breslin how much it wanted him to be a part of the Patriot League powerhouse program.
"(Lehigh head coach) Coach (Kevin) Cassese and (assistant coach) Coach (Will) Scudder came to my house on Sept. 3, and that showed me how important I was to them," Breslin said. "As soon as I met them, my parents and I appreciated them as both men and as coaches."
Breslin then had an idea that he wanted to be a Mountain Hawk, but he'd promised himself going into the process that he'd visit some schools and weigh out his options. His visit to Bethlehem, though, sealed up his decision that he was Lehigh-bound.
Keeping the Team 91 Tradition Alive
"Lehigh's building something great," Breslin said. "I trust the coaches and I think that I'll have an impact there. It's the perfect fit for me. The brotherhood and family aspect really showed when I visited. That team was one of the tightest teams that I've ever seen. I also think it's awesome that there's a 91 tradition there, and it's something to which I'd love to add."
Indeed there is. The '19 Orange quartet of Christian Mulé (Half Hollow Hills West), Justin Tiernan (Glenn), John Sidorski (East Islip) and Nick Turrini (Calhoun) is a big part of the current Mountain Hawks team. '22 Smash Matt Sparhuber (Comsewogue) and Bryce Pang (Deerfield, Mass.) are freshmen, too. Breslin is one of seven Wolfpack players who have already committed, all of whom have picked a Division I school.
A Presence at X
Breslin is one of the top X attackmen in the 2024 class. Poised with the ball in his stick and blessed with terrific vision and passing ability, Breslin elevates the play of those around him. That, coupled with the chemistry that comes with playing with the Wolfpack for so long, helped him shine throughout the summer. The 2021 Suffolk County Rookie of the Year at Commack before transferring to St. Anthony's, the 6-1, 185-pounder will be at ease running the show for the Mountain Hawks' offense. A four-star prospect according to both the National Lacrosse Federation – also the NLF's No. 83 prospect – and Inside Lacrosse showed off that talent this summer.
"It's something that I was working for, so when I finally got the opportunity, I didn't want to let it go to my head and I wanted to show the college coaches my skillset," Breslin said. "I've been playing with (recent Johns Hopkins commit) Ben (Morris) since I was six and Lucas (Laforge) since fourth grade. Our chemistry off the field is awesome, but on the field, I've never been a part of anything like it. We all know where we're going to be before everything happens and we score a lot of goals because of it."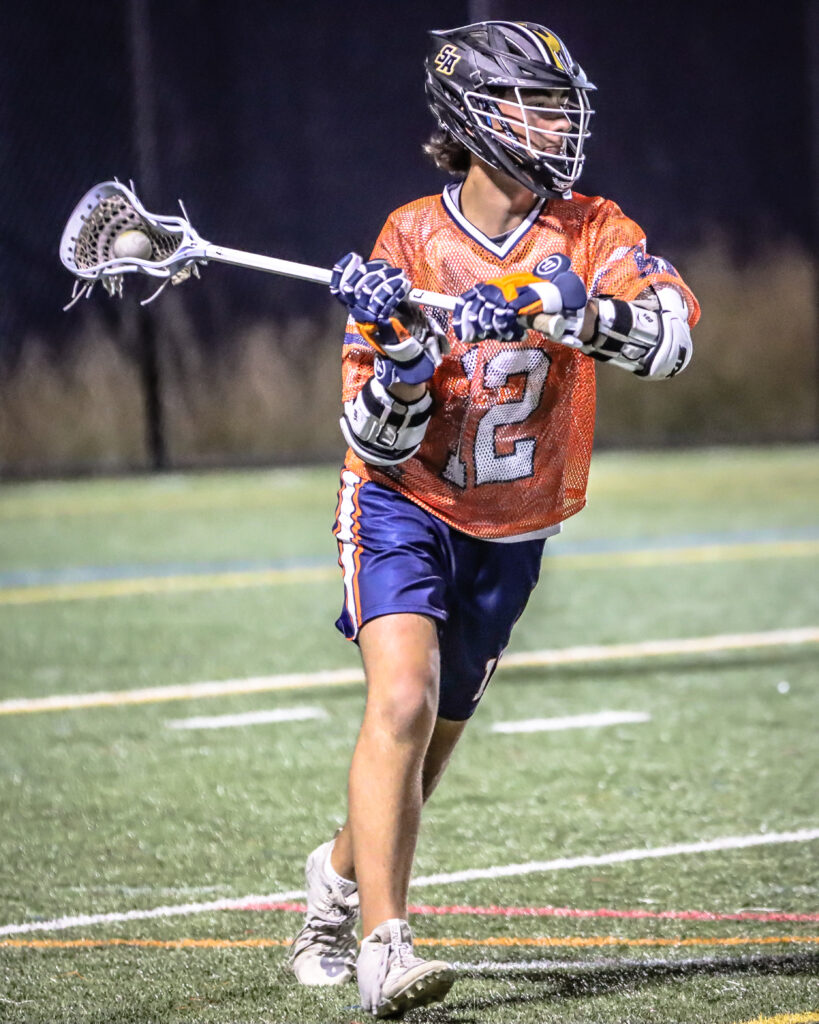 Big Things Coming
They sure do. Arguably the best '24 attack line in the country, the trio works so well together and all three will play at a high level in college. It's been a heck of a foundation for the Wolfpack's success over the years, and coach Jeff Aiello expects it to continue at the highest level for all three, including Breslin.
"Luke's been a lifer with the Wolfpack and he's been such a consistent, calming presence running the offense for us," Aiello said. "He diagnoses plays ahead of time, understands where everyone's going to be and puts the ball where guys want it. He's also a threat to score, so he can beat defenses in a bunch of ways. It's awesome to see him end up playing for Coach Cassese at Lehigh. It's one of the top programs in the country and a fantastic academic school, so he's going to get the best of both worlds in Bethlehem. We're thrilled for him and can't wait to see him light it up in college."