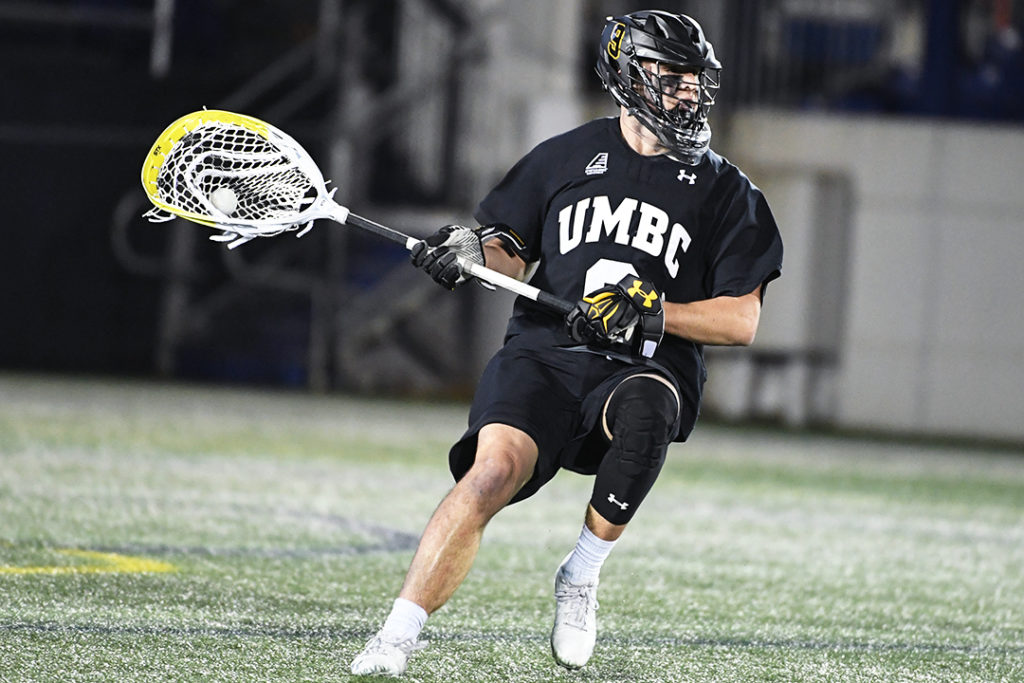 Follow Team 91 on Instagram, Twitter and Facebook.
Turns out that Tommy Lingner is still one of the best goalies in the country.
The Team 91 2017 alumnus by way of St. Anthony's was flat-out incredible yet again for UMBC. This time, he stopped a career-high 18 shots to help secure the America East regular-season title for the Retrievers.
The 18 saves marked the third straight game with at least a dozen saves for Lingner. As a result, he earned America East Defensive Player of the Week honors. UMBC will take on Albany in this week's America East tournament.
Backs against the wall, down by 4 in the 2nd half @HofstraMLAX mounted a much-needed comeback last night.

Credit to Ryan Tierney & Co….scored 9 of the last 10 to give themselves a shot at making the CAA Tournament.

— Travis Eldridge (@tgeldrid) May 1, 2021
Hofstra 18, Fairfield 14
'16 Ryan Tierney (Massapequa) did Ryan Tierney things again, firing home a hat trick, setting up three other goals and chipping in a ground ball as Hofstra roared past the Stags. '16 Justin Lynskey (Massapequa) wasn't far behind with three goals, two assists and two ground balls.
'16 Bobby Casey (Wantagh) was tremendous in the Pride cage, denying 17 rips sent his way and adding a ground ball. '19 Orange Sam Lutfi (Massapequa) added a goal, an assist and two ground balls for Hofstra, which also got two caused turnovers from '16 Logan Danenza (St. Anthony's), a goal and a ground ball from '16 Riley Forte (Half Hollow Hills West). 
'17 Taylor Strough (Cold Spring Harbor) paired a goal with an assist for the Stags. He also picked up a trio of ground balls.
Binghamton 11, UMass-Lowell 9
'17 Tom Galgano (Bethpage) was a pitbull on the defensive end with three caused turnovers and four ground balls as the Bearcats nipped UMass-Lowell. '17 Kyle Tiernan (Glenn) matched his two caused turnovers with two ground balls, '18 Extreme Max Verch (Syosset) snagged a pair of ground balls and '18 Teddy McLoughlin (Islip) added one ground ball.
Air Force 9, Richmond 8 
'20 Crush LSM Chris Bardak (St. Anthony's) was a force for the Falcons as he scored once, added an assist, a caused turnover and a ground ball as Air Force dealt the Spiders their first SOCON loss and secured a playoff spot for itself. '16 defenseman Vince Lombardi (Bayport-Blue Point) added an assist and two ground balls.
Denver 11, Villanova 10 
'16 Lucas Cotler (Syosset) had a goal, an assist and two ground balls to help the Pios clinch the No. 1 seed in the Big East tournament.
Mac O'Keefe has a long-standing beef with top right 😤😤😤

(@PennStateMLAX / BTN)
pic.twitter.com/2oQv2O2Ojt

— TLN (@LacrosseNetwork) May 2, 2021
Johns Hopkins 15, Penn State 7 
'20 Crush Brett Martin (Half Hollow Hills West) scooped up a ground ball and helped the Blue Jays' defense keep the Nittany Lions' offense at bay as Hopkins cruised in the Big Ten quarterfinal.
'16 Mac O'Keefe (Syosset) led Penn State with two goals and an assist. '19 Orange Gerald Filardi (Half Hollow Hills West) collected a ground ball.
6-2, 230 and can make you miss like this? Yikes. https://t.co/YyvET4gNrf

— Team 91 (@team91lacrosse) May 2, 2021
North Carolina 15, Duke 12
'20 Crush Brennan O'Neill (St. Anthony's) pocketed a hat trick for the Blue Devils, which claimed a share of the ACC regular season title despite the loss. '18 Extreme Owen Caputo (Middle Creek, N.C.) scored twice for Duke, which also got five ground balls from '19 Orange LSM Tyler Carpenter (Salisbury, Conn.) and two ground balls from '19 Orange Jake Caputo (Middle Creek, N.C.).
'17 Cam Mulé (Half Hollow Hills West) and '19 Orange Kenny Brower (Massapequa) each added a ground ball for Duke.
Villanova 16, Lehigh 8
'19 Orange Christian Mulé (Half Hollow Hills West) scored once and added an assist, '19 Orange Justin Tiernan (Glenn) added a goal and '19 Orange Nick Turrini (Calhoun) added two ground balls for the Mountain Hawks. Lehigh also got a ground ball from '19 Orange John Sidorski (East Islip) and a caused turnover from '18 Extreme Anthony Tangredi (Chaminade).
Bryant 20, LIU 17
'19 Orange Blake Behlen (Commack) ripped home four goals and handed out two assists to go with four ground balls.
Vermont 14, Stony Brook 13
'18 Extreme Anthony Palma (East Islip) was outstanding for the Seawolves, stopping 15 shots, grabbed four ground balls and caused a turnover.
Loyola 11, Georgetown 9
'17 Joe LiCalzi (South Side) gobbled up three ground balls for the Hoyas.
Drexel 12, Towson 11
'18 Extreme Drew Martin (Half Hollow Hills East) won two faceoffs and snared two ground balls for the Tigers.
Marquette 15, St. John's 14
'17 Tom Martello (Chaminade) handed out a pair of assists and added a ground ball for the Johnnies.
Monmouth 12, Siena 11
'20 Crush Trevor Marsala (Mount Sinai) capped his freshman campaign with a caused turnover for the Saints.
Division II
Dominican 15, Georgian Court 14
'19 White Billy Gordon (St. Anthony's) netted his third goal of the game to give Dominican a lead it never relinquished en route to a one-goal win. Gordon finished with three goals, an assist, four ground balls and two caused turnovers for the Chargers.
Adelphi 12, Southern New Hampshire 9
'16 All-American defenseman Justin Napolitano (Sachem East) forced a pair of turnovers and grabbed two ground balls as the Panthers ousted SNHU in the Northeast-10 quarterfinals. '16 Quintin McKenna (Harborfields) paired a caused turnover with a ground ball.
Division III
Farmingdale State 17, Manhattanville 10
'18 Extreme Jake Wandle (Rocky Point) had a goal to lead the Rams to their third straight win.
Maritime 16, Mount St. Vincent 2
'19 White Connor Buschle (St. John The Baptist) tallied once, caused a turnover and picked up a ground ball as Maritime rolled.
Catholic 16, Elizabethtown 10
'17 Sean Baudo (St. Anthony's) had a pair of ground balls as the Cardinals finished their regular season unbeaten and locked up the top seed in the Landmark Conference playoffs.
Williams 9, Trinity 8
Wesleyan 16, Trinity 12
'17 Jake Sexton (Chaminade) snapped home a hat trick and dished out a pair of assists in Wesleyan's win. '19 White Will Puccio (Garden City) added a goal in both games for Trinity.
Misericordia 28, Wilkes 13
'20 Orange Matt Warns (Mattituck) collected three ground balls for Wilkes.