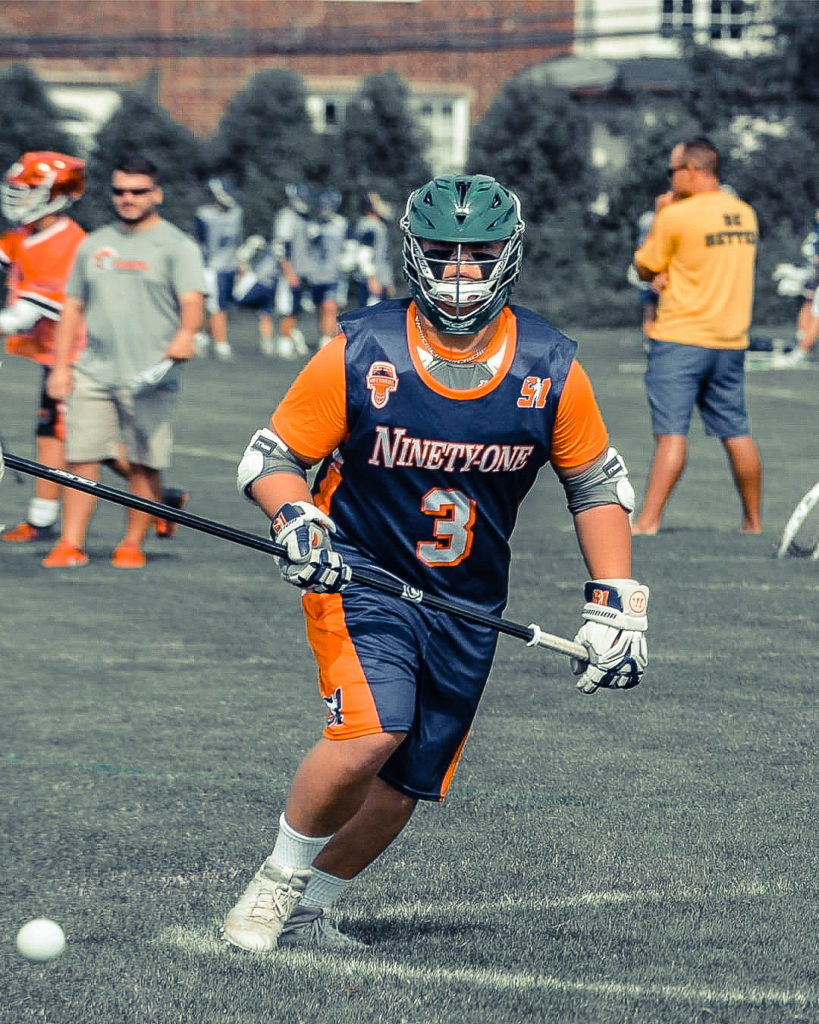 Follow Team 91 on Instagram, Twitter and Facebook.
Unlike so many kids his age, Dylan Sohm's pretty much always known what he's wanted to study in college.
Of course, it didn't hurt that he had a great role model to aspire to be like, and the Team 91 '20 Varsity and Seaford defenseman hasn't veered from that longstanding path. Sohm has always wanted to get involved with criminal justice because his father, Matt, is a sergeant in the Hempstead Police Department, but he's also looking to add his own little twist to it.
"It's always been a passion of mine to follow in his footsteps," Sohm said. "I've always looked up to him, especially when he'd come home in his uniform. I'd also like to work in the K9 unit because I really like dogs and I want to be able to clean up the community."
That emphasis on criminal justice played a major role in his recruiting process, too. Sohm quickly narrowed his focus on a few schools where he felt at home and knew he'd get a top criminal justice education, and he got an unexpected boost when teammate Liam Linden found a new opportunity.
"Liam was looking at Manhattanville, but he got an opportunity to play Division I at St. Bonaventure, so he recommended them to me and he figured it'd be a good fit for me," Sohm said. "I got in touch with the coach, got invited on a visit and just fell in love with the campus. I liked (Manhattanville head coach Ryder Bohlander's) coaching style and he really got me hooked on the school.
It didn't take much more for Sohm to commit to the Valiants, becoming the first player in Team 91 history to choose Manhattanville. The school touched on all of his requirements, not the least of which was a stout criminal justice program.
"When I first got on campus, I saw the big church and the stone buildings, and it was really just a breathtaking experience," Sohm said. "The small campus really fits my learning ability and style, plus everybody that I met was really nice. They also have a great criminal justice program. One recent graduate recently went into the FBI, so that really attracted me to the school. I think everything about being a police officer is interesting, with the different types of jobs that they do and how they have to do so much for the community."
There's a lot to like about Sohm's game, and it's not hard to see why the Valiants liked him so much. A three-year starter on the back end for Seaford, he made an immediate impact in his two seasons for the 91 Varsity team. A hard-hitting, physical player who loves to lay the body in the middle of the field, Sohm plays with a chip on his shoulder.
"Dylan is a great player who's one of the most dedicated travel players that I've ever coached," Team 91 Varsity coach Dan Spallina said. "He never misses anything, and he's a great glue kid. He helped make the players around him into a team with his positive attitude and leadership. He's a very physical player and a great communicator on defense, and I'm proud of how patient he was with the recruiting process. He waited for the right opportunity and it paid off, and I can't wait to see him excel at Manhattanville."
Sohm admitted that he got a little nervous as a 2020 when he was uncommitted heading into his senior year, but his continued work to improve made him the ideal late target for the Valiants.
"I was getting a little nervous, but then I got on track with some schools and then Manhattanville ended up being the best fit for me," Sohm said. "Coach Spallina also helped me a lot through the process with reaching out to coaches and he was a huge help. He also developed me as a defensive player."
A defensive player that's set to take on the Division III world.