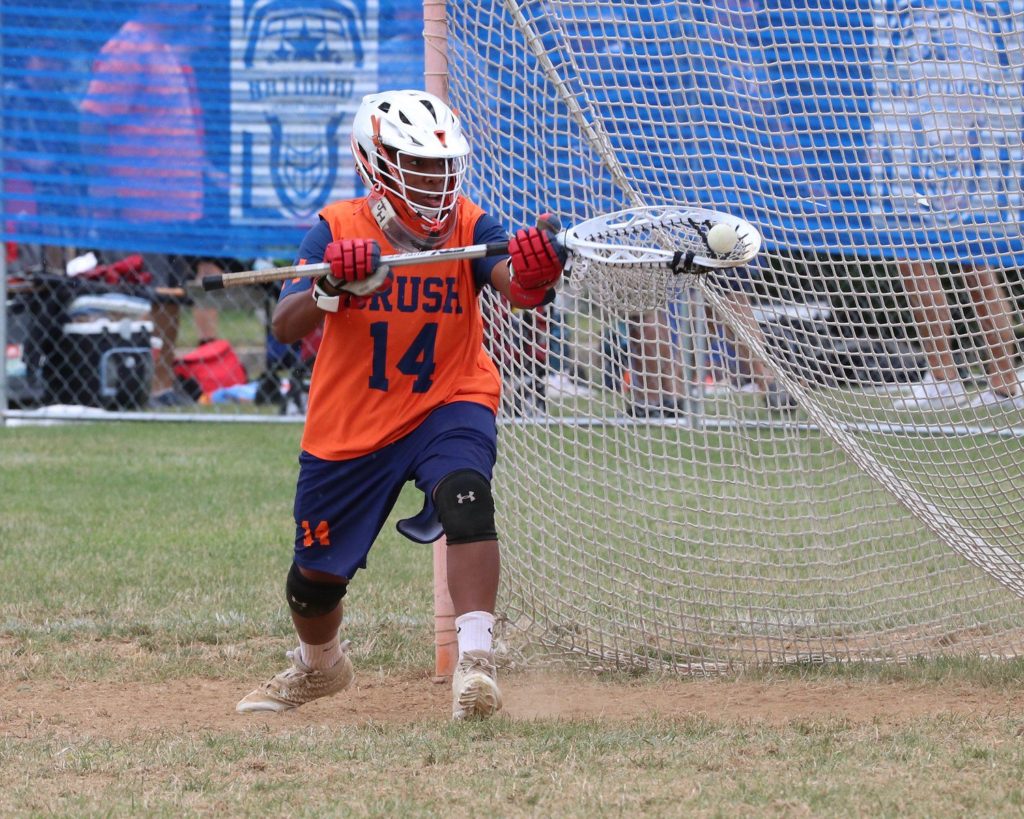 Photo courtesy of Alain Tingue
Follow Team 91 on Instagram, Twitter and Facebook. 
Jayson Tingue watched from a distance, taking it all in and being happy for every single one of his Team 91 2020 Crush teammates who found a collegiate home rather quickly.
There were plenty that flew off the board before the NCAA recruiting rule change, and then a half-dozen or so more that followed suit after Sept. 1 of this year, when coaches could re-initiate contact with them. When those players made their commitments, Tingue was as happy as anyone for them, but at the same time, it also drove him to take his game to the next level.
"It was definitely a little tough, because seeing all of those great players commit made me happy, but it also made me hungrier. It made me want to put in more work to find a school that I wanted to commit to. Seeing all of the other goalies in my class commit made me want to be a part of that pack, too. If I wanted to sleep in some days, I'd ask myself, 'do I sleep in or do I get up and go to the weight room?'"
The weight room's record in that battle was as lopsided as it gets as Tingue pushed himself to become a better goalie. He knew he'd get plenty of exposure playing for Crush, the best 2020 team in North America, and he knew that he'd find a spot if he just took his time. It started this summer when he stood out at the NLF Main Event, and he later helped Crush to an NLF national championship, making timely saves while playing the whole game in the championship. A few months later, his time finally came after putting together a strong fall.
Tingue opted to commit to UMBC, becoming the 14th Crusher to verbal, all to Division I schools. The Bay Shorejunior considered schools all over the country, both far and near, but chose the Retrievers, among other reasons, because it allowed him to get away from home while still being within a fairly close drive.
"The school itself is awesome and it will give me a great education, and I knew that I wanted to get away from home and from Long Island for school," Tingue said. "It's not a huge school, but it's not tiny, either. Baltimore is only 15 minutes away, which is cool, and I think that I'll be able to have a great job and career where I can make a good salary coming out of a great school. The coaches are awesome and I really enjoyed being around them."
"The toughest part for me was picking the school that was right for me and not just going to a school just because it has a certain name," Tingue added. "I was picking the school where I could see myself doing the best. After my second visit, which was my overnight visit, I kind of realized that this could be the school for me."
Tingue isn't the biggest goalie, but you'd be hard-pressed to find a 2020 goalie who communicates with his defense more than he does. He has exceptionally quick feet and gobbles up low shots with ease, while also displaying good hand quickness to take away high rips, but Tingue's best asset is his ability to ensure that everyone is in the right spot at all times.
"A lot of coaches have told me that even before they've seen me play, they've heard me from a couple of fields over," said Tingue, who has an eye on studying something science-related at UMBC. "It's definitely been a great experience to play for Crush, too. It's a great group of guys, and they're all very talented. Anytime I'd have a tough practice or something like that, I realized that if I could stop shots from them, I could stop any others. I just want to thank my coaches Joe Spallina, Tim Cox, Andy Martin, Mike McAdorey, Darrin Schirtzer, John Arline and Keith Wieczorek. They really helped me."
For Spallina, it's fitting to see his goalie find a home at the next level. Tingue has played almost his entire club career with the Crush, meaning that Spallina has been able to watch the 'keeper develop almost from Day 1.
"I'm so extremely happy and beyond proud of Jayson," Spallina said. "He is such a talented player and an unparalleled leader, and UMBC got an absolute gem on and off the field. I met Jayson at a camp when he was in fourth grade and he's been with me ever since, and I can't wait to see him do great things as a Retriever."
In the long run, patience paid off once again.
Team 91 2020 Crush Commitments
Xavier Arline, attack, Shoreham-Wading River – North Carolina
Justin Brown, midfield, Half Hollow Hills West – Michigan
Nick Caccamo, defense, Harborfields – Yale
Tyler Cordes, midfield, Connetquot – Navy
Aidan Danenza, midfield, St. Anthony's – Duke
Tommy Dolciotto, midfield, Syosset – Stony Brook
Koby Ginder, faceoff midfielder, Brunswick (Conn.) – Princeton
Caden Hawkinson, D/LSM, Cold Spring Harbor – Michigan
Nick LiCalzi, D/LSM, South Side – Navy
Brett Martin, midfield, Half Hollow Hills East – Johns Hopkins
Brennan O'Neill, attack, St. Anthony's – Duke
Jack Schirtzer, D/LSM, Shoreham-Wading River – Maryland
Jack Stewart, midfield, Huntington – Air Force
Jayson Tingue, goalie, Bay Shore – UMBC