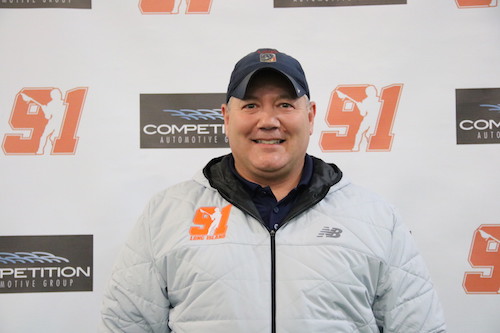 Name - Mike Rupolo
High School (year graduated) - Bellport High School 
College (year graduated)  SUNY Stony Brook '95
What Team 91 team(s) do you coach?  Women's Program - 2022 Rapid Fire, Men's Program - 2024 Flash
Where do you live? Bellport
How long have you been coaching for Team 91? 3 years
5 best lacrosse accolades - US Lacrosse Coach of the Year - 2018, Advisor - Suffolk County Girls Lacrosse Julia Nofi Jamboree where we host 3,000+ young lacrosse players in Bellport for charity, to be called coach still to this day by so many that I've been responsible for in coaching youth sports for over 10 years.
Coaching philosophy - Every child on our teams are treated as part of our family.  The families are our priority.  This journey has to be one filled with creating incredibly strong bonds on and off the field in order to play as a team.  There needs to be experiences created for our players so that when this sport for fun becomes more of a job as they get older, they can think back to those memories we created.  This sport has given so much to so many, which is why our players also are taught the importance of the sport's history.  That's what separates lacrosse from any other sport.  That history and the life lessons taught on the field and off, are incredibly important.  Academics are crucial to everyone's success, which is why we have set a minimum GPA and collect report cards every quarter.  We have players hitting the highest GPA they have ever had because of this focus.  This might not be the right philosophy for everyone, but for the 45 families I am responsible for, it is perfect.  
Why do you love coaching for Team 91? Sara and Guido have fostered an incredible environment within the program.  Their support in building our teams, promoting the culture and philosophy we follow, and creating the opportunities for our players and families to advance with this sport is second to none.  Knowing that you have some of the most accomplished athletes to ever play this sport running and supporting your efforts day in and day out nationally, is awesome!
Any coaching influences?  Too many to list from both an athletic and professional set of experiences.  It's important to have mentors at ever stage of life, and I have been incredibly fortunate to have some of the best along the way.