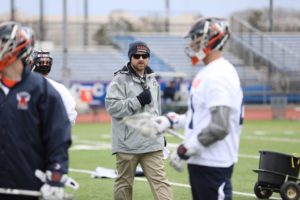 High School: 
Wantagh; 1999
College (year graduated): 
Adelphi; 2003
Nassau Community College; 2001
What Team 91 team(s) do you coach?
2020 Orange
Where do you live? 
Massapequa
How long have you been coaching for Team 91?
7 months
5 best lacrosse accolades: 
1) Head Coach National Runner-Up 2018: Nassau Community College
2) Five NJCAA Final-Four Appearances as Head or Assistant Coach at Nassau Community College; Three National Championship game appearances.
3) Nassau County Coaching Staff of Year 2012: Bellmore JFK HS
4) Two Time National Champion - Nassau Community College 2000, 2001
5) All-American - Nassau Community College 2001
Coaching philosophy:  
Life first; relationships second; field third  but take equal pride in all aspects.  Train the system you're going to play in.
Why do you love coaching for Team 91? 
The organization as a whole has been extremely impressive from day one.  From their family like atmosphere, commitment to overall excellence, top notch instruction, staff and facilities along with their flexibility; I honestly couldn't ask for a better place to work the summer travel circuit.  I am fired up to be working with 91 and very excited for what's ahead.
Any coaching influences? 
George Powers, Rich Speckmann, JP Brazel, Sandy Kapatos, Tom Mariano, Tim Boyle, Jim Berkman
Additional Info:
Overall record Head Coach NCC 33-7
(2017-Current)
Overall record Assistant Coach NCC 39-7 (2013, 2014, 2015)
I have coached or trained throughout my career:
- 2018 MLL and NLL Rookie of the Year
- 11 MLL Current Players or Draft Picks
- 1 PLL Player
- 5 current college assistant coaches
- 40+ Division 1 commits/current college players
- 50+ Division 2 commits/current college players
- 35+ Division 3 commits/current college players