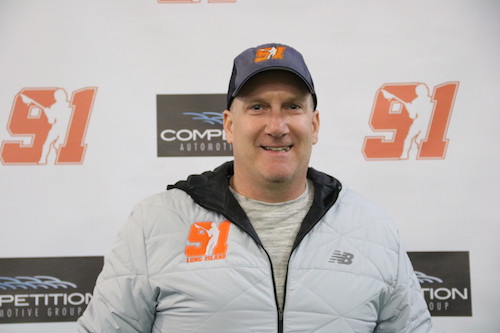 2023 Spartans | 2027 Machine
High School
1989 Farmingdale HS

College
1993- St Johns University

What Team 91 team(s) do you coach?
Head coach 2023 Team 91 Spartans
Asst Coach 2027 Team 91 Machine

Where do you live? 
Massapequa

How long have you been coaching for Team 91?
6 years with Team 91
Coaching experience- 20 years- football, basketball, wrestling, and lacrosse (Youth- Varsity)

5 best lacrosse accolades 
- Farmingdale HS 1988 Nassau County Champions, Long Island Finalists
- Farmingdale HS 1989- Nassau County Champions, Long Island Finalists
- 1989 Senior year team ranked #2 in NY State
- Scoring 2 goals in 1989 county finals against Garden City, won 7-6
- Lacrosse scholarship to Division 1- St. John's
- 2nd on team in points senior year at SJU

Coaching philosophy
Work hard, play hard, have fun! Skills/drills, pay attention to the small stuff- hand positions, footwork, then drill it!

Why do you love coaching for Team 91?
Team 91 is absolutely the best place to coach and I wouldn't want my own kids anywhere else!
From the owners down- it's all about the kids- getting the right coaches, the correct fit and training them correctly- Team 91 is loaded with amazing talented coaches and lacrosse leaders- I get to learn from them everyday and I've been coaching for 20+ years! You have the best players, and coaches assembled in one travel organization!

Any coaching influences?
I was influenced by several coaches and fell in love with teaching and coaching- kids see you in school and on the field- Best of both worlds.
It's great to share my HS, college, and now coaching experience with kids! Lacrosse kept me on a positive tract, giving back to the sport and growing the game is so important to me!
One coach will impact more kids in one year than an average person does in a lifetime!