Follow Team 91 on Instagram, Twitter and Facebook.
You want offense? 🙌

Turn your TV to ESPN2, because @UVAMensLax and @UNCMensLacrosse are putting on a show.

Ian Laviano with the play of the game so far, underhanded top 🧀 pic.twitter.com/8HICQfBLLT

— US Lacrosse Magazine (@USLacrosseMag) April 10, 2021
Ian Laviano is heating up just in time for Virginia.
The Team 91 2017 alumnus by way of Cold Spring Harbor was back to his old tricks in Saturday's 18-16 win over North Carolina in an ACC battle of two of the country's best teams. Laviano buried four goals and added two assists to give the 'Hoos their fourth straight win.
The win slots UVA into third place in the ACC, the country's toughest conference. Laviano's hat trick was his second in three games, and he only needed five shots to bury his four tallies.
This cross-field bounce pass from @HofstraMLAX's Ryan Tierney was absurd!

🎥 @LaxSportsNet pic.twitter.com/cE9qOkDing

— Lacrosse Playground (@LaxPlayground) April 9, 2021
Hofstra 12, UMass 11
'16 Justin Lynskey (Massapequa) came through in the clutch for the Pride, scoring the go-ahead goal and the game-sealing goal 2:53 apart, the latter on an assist from '16 Riley Forte (Half Hollow Hills West), as the Pride edged the Minutemen in a crucial CAA game.
Lynskey finished with a hat trick, two assists and three ground balls for Hofstra, which won for the sixth time in seven games. All-American candidate '16 Ryan Tierney (Massapequa) pocketed another hat trick to go with three assists and five ground balls. '16 Bobby Casey (Wantagh) came up with seven timely saves, while Forte added a hat trick to go with his assist. '16 Logan Danenza (St. Anthony's) picked up a pair of ground balls for the Pride.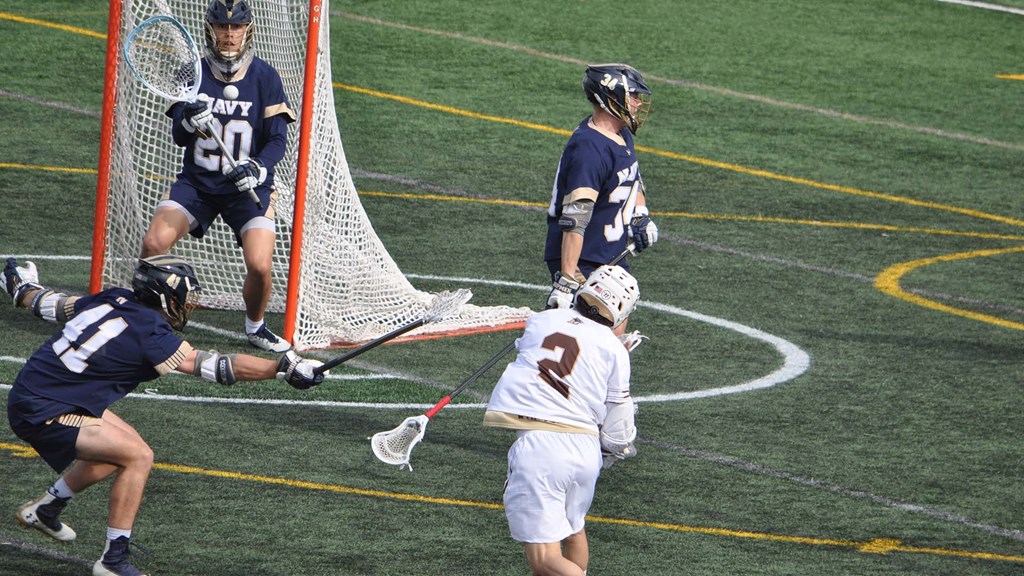 Lehigh 13, Navy 7
'19 Orange Christian Mulé (Half Hollow Hills West) was a dominant all-around force for the Mountain Hawks, pairing three assists with two goals to go along with two caused turnovers and five ground balls as Lehigh stayed perfect.
'19 Orange John Sidorski (East Islip) handed out a trio of assists in the win, while '19 Orange Justin Tiernan (Glenn) scored twice to go with an assist. '18 Extreme Anthony Tangredi (Chaminade) caused a turnover to help secure the win.
Mac O'Keefe ➡️ Career Goal 211#WeAre pic.twitter.com/WlzW5TA08v

— Penn State Men's Lacrosse (@PennStateMLAX) April 10, 2021
Rutgers 22, Penn State 10
'18 Extreme LSM Ethan Rall (East Islip) was a force for the Scarlet Knights, scoring a goal, causing two turnovers and pocketing two ground balls as Rutgers rolled.
'16 Mac O'Keefe (Syosset) ripped home a pair of goals to go along with five ground balls and two caused turnovers. He needs two more goals to become the all-time goals record holder in Division I lacrosse.
Georgetown 10, Marquette 8
The Hoyas picked up their fourth straight win, thanks in no small part to '17 Joe LiCalzi (South Side) coming up big with six ground balls and a caused turnover. '18 Extreme James Amorosana (Marquette) caused a turnover for Marquette.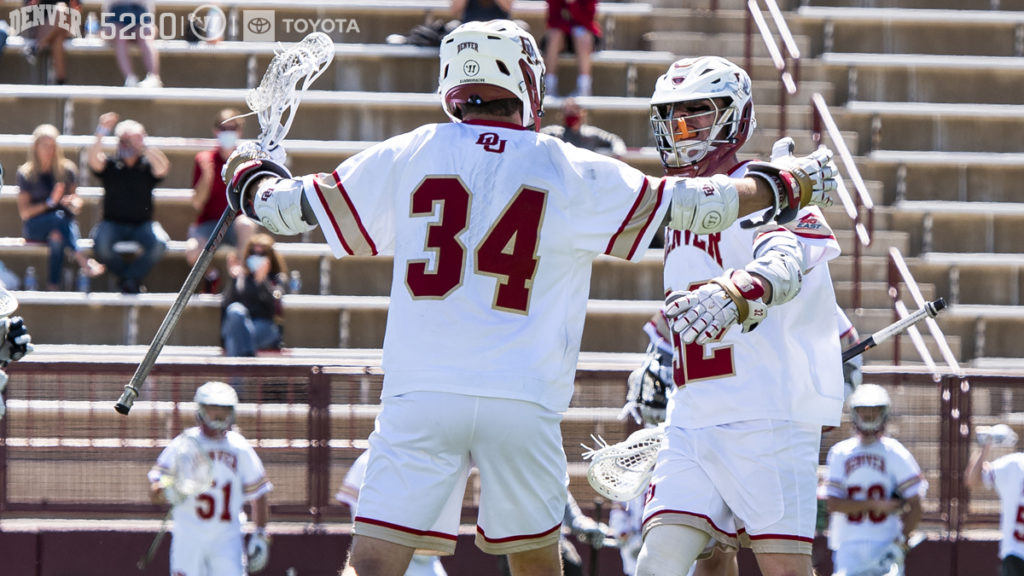 Denver 17, Villanova 10
'16 Lucas Cotler (Syosset) tossed in his first hat trick as a Pioneer, to go along with an assist, as Denver raced by the Wildcats.
Saint Joseph's 13, Hobart 12
'17 Matt Tufano (Glenn) netted two goals and added an assist, wbile '18 Orange Ryan Doran (Half Hollow Hills East) scored once, set up another goal and snagged two ground balls in the Hawks' fifth straight win.
Towson 12, Fairfield 11
'18 Extreme Drew Martin (Half Hollow Hills East) scrapped hard at the X for the Tigers, winning six faceoffs to go with four ground balls and a caused turnover while also setting up a goal to help Towson nip the Stags.
'17 Taylor Strough (Cold Spring Harbor) countered with a goal for Fairfield.
Stony Brook 12, NJIT 8 
'18 Extreme Anthony Palma (East Islip) stoned seven shots sent his way to procure the win for the Seawolves.
Ohio State 14, Johns Hopkins 12
'20 Crush Brett Martin (Half Hollow Hills East) caused a turnover and had three ground balls for the Blue Jays.
Notre Dame 13, Duke 8 
'20 Crush Brennan O'Neill (St. Anthony's) buried his fifth hat trick in the past six games to push his freshman season goal total to 30 and also added a ground ball, but the Blue Devils fell for the first time this season.
'18 Extreme Owen Caputo (Middle Creek, N.C.) tallied once for Duke, while '19 Orange Tyler Carpenter (Salisbury, Conn.) caused two turnovers and bagged four ground balls.
Hartford 8, Binghamton 7
'17 Tom Galgano (Bethpage) was a force on the Bearcats' back end, causing three turnovers and grabbing four ground balls, while '18 Extreme Max Verch (Syosset) caused three turnovers and snagging a ground ball for Binghamton.
'18 Teddy McLoughlin (Islip) dislodged a pair of turnovers and collected three ground balls, while '17 Kyle Tiernan (Glenn) added a caused turnover and two ground balls for the Bearcats.
Jacksonville 11, Air Force 5
'16 Vince Lombardi (Bayport-Blue Point) did all he could for the Falcons, pairing four ground balls with caused turnovers, and '20 Crush Chris Bardak snagged three ground balls and popped loose a turnover for Air Force.
Quinnipiac 7, Siena 5
'20 Crush Trevor Marsala (Mount Sinai) recorded three caused turnovers, his fourth straight game with multiple caused turnovers, to move him into the top 10 nationally in caused turnovers per game. Marsala also collected two ground balls for the Saints.
Merrimack 14, LIU 10 
'19 Orange Blake Behlen (Commack) had his second straight game of at least three assists as he handed out three helpers to go with a goal, two ground balls and a caused turnover for the Sharks.
Albany 14, UMBC 9
'17 Tommy Lingner (St. Anthony's) rebuffed six offerings sent his way for the Retrievers.
Providence 19, St. John's 9
'16 Tom Martello (Chaminade) handed out a pair of assists for St. John's.
Division II
Adelphi 10, Pace 5
'16 Justin Napolitano (Sachem East) led a stingy defensive effort with a caused turnover for Adelphi.
Limestone 11, Queens 5
'20 Orange Colby Suglia (Mattituck) continued his great freshman year by causing a turnover and picking up a ground ball for Queens.
Division III
Catholic 28, Moravian 10

'18 Orange Sean Baudo (St. Anthony's) led the Catholic onslaught by setting the school with 10 points on the strength of five goals and five assists. Baudo tied the Landmark Conference record for most points in a conference game.
Farmingdale State 14, Mount Saint Mary 3
'18 Extreme Jake Wandle (Rocky Point) set a career high with five assists to go with a goal, two caused turnovers and two ground balls as the Rams buzzed to a lopsided win.
Wesleyan 13, Hamilton 7
'18 Jake Sexton (Chaminade) celebrated the start of Wesleyan's season with two goals, two assists, two ground balls and a caused turnovers.
Maritime 15, Manhattanville 8
Maritime 9, St. Joseph's 6
'19 White Connor Buschle (St. John The Baptist) got the party started for Maritime, burying a hat trick to go with a caused turnover in the win over Manhattanville. He then added a goal, an assist and two ground balls in the second win of the week.
Ithaca 12, Clarkson 11
'18 Orange Conor Caiazza (Half Hollow Hills East) was everywhere for the Bombers, vacuuming up seven ground balls in Ithaca's win.
Cabrini 29, Marymount 6
'18 Extreme Matt Sageder (Mount Sinai) made a pair iof saves in 40 minutes of work to earn the easy win for the Cavaliers.
Franklin & Marshall 26, McDaniel 3
'19 White Kyle Craig (Wantagh) spearheaded a stingy F&M defense with a trio of ground balls.
Delaware Valley 12, Wilkes 7
Wilkes 9, FDU-Florham 8 
'20 Orange LSM Matt Warns (Mattituck) had three ground balls and a caused turnover against Del Val, then followed it up with a goal, a caused turnover and a ground ball to help Wilkes split the week.