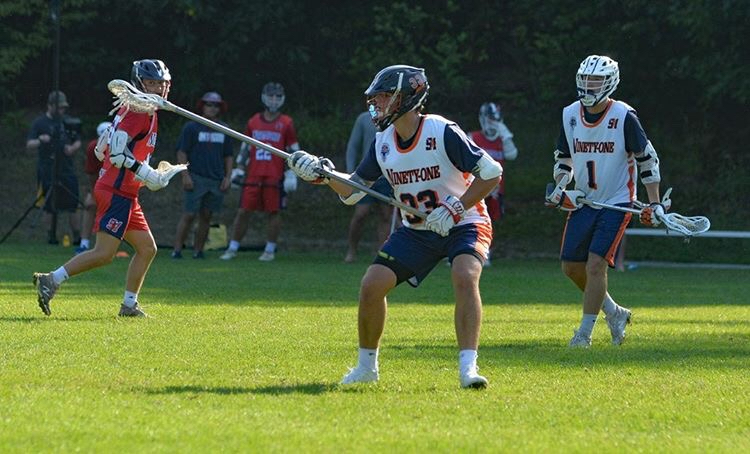 Follow Team 91 on Instagram, Twitter and Facebook. 
Jack McCarthy admitted that he went into his final summer of club lacrosse a little unsure as to what to expect, and there was some trepidation as to whether or not he'd find a collegiate home.
"I was a little nervous because I didn't have a lot of interest," the Team 91 Orange and Connetquot defenseman said. "The more I thought about it, though, the more I realized that I just had to put in the work to get ready and perform this summer."
It didn't take long for him to do just that. On the heels of another great year for Connetquot, his third as a starter on the back end, McCarthy was consistently excellent throughout the summer. He balled out at Run With The Best and the NLF Summer Showcase, and he never relented.
It's not surprising, then, that the interest started to rack up, but ultimately, it was a school that McCarthy had been in touch with for a long time that stood out the most to him. He started to forge a relationship with Hartford's coaching staff last September, and the more he thought about it, the more the Hawks looked like a natural fit for him. After his summer wound down, the Hawks stressed to him that he was a top priority for them, and McCarthy committed to Hartford.
"From the moment I got there, the coaches were outstanding, and they treated me like I was family," McCarthy said. "I loved the coaching staff, and I was also able to meet some of the guys and talk to them about the team and one of them about my potential major. The facilities were great, the campus was the perfect size for me and everything just kind of fell into place."
McCarthy is the fifth Team 91 2020 Orange player to commit, and he's the first player in Team 91 history to select the Hawks. That special relationship with the coaches is what sealed the deal for McCarthy, and he's excited to get to Hartford to be a part of the Hawks' program.
"It was really all Coach (Ryan) Martin," McCarthy said. "He's such a great guy and I really look up to him and the rest of the coaching staff."
A 6-1, 200-pound specimen at close defense who will be a four-year varsity starter, McCarthy is also a linebacker and a tight end on the football field. It's no surprise, then, that he makes a living as a physical defenseman with a nasty edge. He's got a good stick and the ability to run by guys in transition, but first and foremost…
"I love hitting people," McCarthy said. "Hartford told me they liked my size, athleticism and versatility. I've really tried to improve on my footwork and covering guys behind the net, as well as the clearing game. With the new rules now, you really have to be good in the clearing game to play."
Going to Hartford also gives McCarthy an opportunity to follow in his parents' footsteps, with his father being a principal and his mother being a teacher.
"I want to be a teacher, so I was looking at their education program," McCarthy said. "My parents always come home with awesome stories about teaching, and I love being around kids, so I want to be an elementary school teacher."
A mainstay on the Orange team since seventh grade, McCarthy has consistently impressed coaches and teammates alike with his enthusiasm and work ethic. He's consistently been a cornerstone of the team, and he credited his coaches for putting him in this position.
"Coach (John Savage) loves the word, 'execution,' and he's constantly harping on it and working with us on executing," McCarthy said. "Coach (Jeff) Capri has always been there to help me with my positioning and defense, and they helped me a lot."
For Capri, it's been a pleasure to watch one of his longtime players mature into a Division I prospect, and he sees McCarthy emerging as a major player for the Hawks.
"Jack has worked extremely hard to put himself in a position to play Division I lacrosse, and we couldn't be more excited to see him land at Hartford," Capri said. "He's been with our team forever and it's great to see his hard work and dedication pay off this way. He's an extremely intelligent defenseman who has the physicality and athleticism to thrive at the next level, and we're excited to see what he can do as a Hawk."
TEAM 91 2020 ORANGE COMMITS
Click here for all Team 91 commits
Cory Capri, attack, Glenn – Amherst
Kyle Connor, defense, Sachem East – Quinnipiac
Ronnie Durante, goalie, Lindenhurst – St. John's
Jack McCarthy, defense, Connetquot – Hartford
Anthony Sand, attack, St. Dominic – Virginia Military Institute